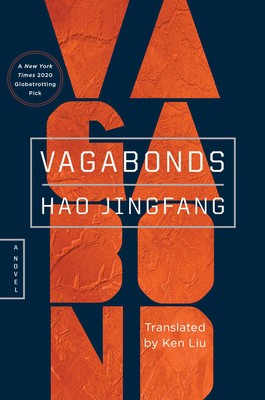 Eko stood next to the window and looked outside. The empty surface of Mars evoked for him the music of bagpipes.
The room was extremely bright. Floor-to-ceiling glass walls allowed his view to extend unimpeded from his feet to the horizon. The red desert stretched flat like an endless scroll record- ing an epic—wild, vast, uninhibited.
Is this where you wanted to be buried? Eko thought.
Though he had never been to Mars, the scenery before him wasn't unfamiliar. The first time he had visited his teacher, when  he was fifteen, this same eternal red view was projected on his teacher's wall.
He had stood at the door to the study, gazing at the desert of another world, not daring to go in. His teacher was sitting in a high-backed chair facing the wall, back to the door, his blond hair spilling from the edges of the chair back. Bagpipe music played over the sound system, and it seemed to be coming from every direction. Although at first the desert on the wall appeared as a still photograph, closer examination revealed movement. The footage was shot from a low-flying aircraft that wasn't flying very fast, though the rocks on the ground hurtled through the view, too quick for the eyes to focus on any one. The star-studded sky loomed in the distance.
He stood, mesmerized, until a deep canyon  suddenly swept into view. He cried in surprise and knocked over a wooden statue  by the door. By the time he managed to lift up the statue, his teacher was standing next to him.
He put a hand on the boy's shoulder.
Eko, is it? Please come in.
He looked up, and the desert was gone. The bagpipe music lingered in the empty air. He was disappointed.
Eko had never told anyone of that encounter, and during the  ten years he had studied with his teacher, they rarely spoke of it. It was a secret between the two of them, a secret concerning two worlds. His teacher did not speak of Mars. No matter how much film theory and technique he taught Eko, he never showed him any films about Mars.
Ten years later, Eko was finally face-to-face with the real Mars. The bagpipes played in his mind as he stared at the landscape etched into his memory from long ago.
*
After a hot shower, Eko sank into a soft chair and stretched his  legs. The hotel was very comfortable, and he felt relaxed.
He liked being alone. Though he could get along with just about anyone, though he was charming at film openings and cock- tail parties, though he was required to deal with all kinds of people for his movies, he still preferred to be by himself. When with others, he could never be completely at ease. Always he held his breath and kept his senses sharpened. Only when he was shut in  his room was he able to sigh with relief and let the tension in his body fall away, to fully luxuriate in his own existence.
He leaned back and gazed up at the ceiling. Everything on this planet aroused his curiosity. Before arriving, he had imagined all kinds of fantastic scenarios on Mars, but the reality was nothing like his visions. He couldn't say whether reality was better or worse, but he was sure that the real Mars deviated from his imagination in unexpected ways. He had been dreaming about this place since he was fifteen, wondering how Mars could have kept his teacher away from home for eight years.
In his mind he had pictured the planet as the last utopia of humankind, a place where crude commercial interests yielded to pure intellect. He knew that this was not how the consensus on Earth portrayed the red planet, but he didn't care.
Looking around, he thought his room wasn't too different from his cabin on Maearth: transparent desk, transparent dresser, trans- parent bedposts. It was a transparent shade of blue, though lighter in some places and darker in others. Even the chair he sat in was transparent, as though made from inflated glass fabric that changed shape as his body shifted. The walls facing outside were also trans- parent, and from his chair he could see all the way to the horizon. Only the wall next to the hallway was an opaque white that gave him privacy from the other guests. The whole room reminded him of a crystal box—even the ceiling was translucent, like an azure sheet of frosted glass. Through it he could see the blurred sun, like a white lamp.
What does all this transparency mean? The word "transparent" was politically significant. A room that should be one's own made transparent suggested surveillance. When all the rooms were transparent, it suggested mass surveillance. He could take this as a symbol of the conquest of individual privacy by the collective and turn it into a bit of political commentary, a critique.
That sort of approach would be exactly what mainstream Earth opinion expected. His documentary would naturally be well received. The proponents of individualism on Earth had been wait- ing for just this kind of evidence, incontrovertible proof of the accusations leveled against the "hell in heaven." It would also provide the hawks with yet more support for an attack against Mars.
But Eko didn't want to go down that route—at least, he wasn't willing to abandon himself to received wisdom so easily. He refused to believe that a place so spiritually oppressive could be where his teacher had willingly devoted eight years of his life.
He never told anyone his real purpose for agreeing to come to Mars. Maybe someone could guess it; he wasn't sure.
It wasn't a secret that he had studied filmmaking with Arthur Davosky. Ostensibly the award he had won a year earlier was why he had been chosen as a member of the Terran delegation, but he knew that Theon had recommended him in large measure because of his friendship with Arthur. He accepted the offer to join the delegation without probing deeply into the reasons, and Theon never offered an explanation. At Arthur's funeral, he had seen Theon's bald head and sunglasses, bowed from start to finish.
Gently, he retrieved the chip nestled in his shirt pocket and admired it in his palm. His teacher's memories from near the end  of his life were stored on it—supposedly in the form of neural activity converted into ones and zeros. Rationally he didn't believe in the practicality of this technology, but emotionally he wanted to believe. After a man died, if his memories could be kept alive—if he could still decide where the memories would find eternal rest— then the dissolution of death represented no absolute victory.
__________________________________
Excerpted from Vagabonds by Hao Jingfang and translated by Ken Liu. Reprinted with permission of the publisher, Gallery Books.